Live Fire Testing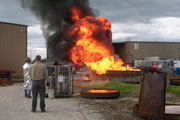 Chemguard performs both "top-side" and sprinkler fire tests at our Fire Test Facility, located in Mansfield, Texas, adjacent to the company headquarters. A versatile operation, the Fire Test Facility is equipped for a wide variety of fire test standards, including:
UL 162
FM 5130
MIL-F-24385F
Large area storage tank fire (LASTFIRE) protocol
ICAO
U.S. Coast Guard
Chinese Standards GB 15308
EN1568
GB 17427
MSC Circ. 582
Because the Chemguard Fire Test Facility is situated next to our manufacturing plant, testing organizations can take samples of fire suppressant chemicals from batches as they come out of the blender, offering a high level of control over samples.
Chemguard also provides a location for local municipal fire departments to train on live fires.
For more information,
contact fire suppression customer support
.