ISO 9001:2008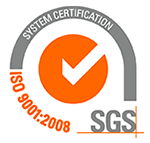 Chemguard received ISO 9001 certification in 1997, which subsequently was raised to the current revision of the standard, ISO 9001:2008. Achieved through an independent audit and based on standards set by the International Organization for Standardization (ISO), this certification indicates that Chemguard uses internationally accepted and quality-based business practices in designing, developing, manufacturing, and installing products.
ISO 9001:2008 certification assures Chemguard's customers worldwide that the company applies an accepted and effective quality management system to improve products, satisfy customers, and motivate staff.

View certificate
For more information,
contact us
.