Research & Development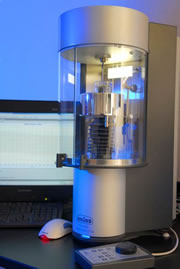 Chemguard's state-of-the-art research instrumentation includes a Kruss tensiometer for measuring surface tension and interfacial tension.
Chemguard is committed to continuous product development and innovation to meet customer requirements and market demands. In recent years, we have increased our R&D staff and expanded our laboratory facility. We also have invested in state-of-the-art equipment, such as a Kruss tensiometer.
We are available to answer product questions and assist customers with custom formulations for specific application requirements.
Fire Suppression Product Research
Since 2000, we have developed low-viscosity agents that exhibit improved polar solvent performance for alcohol-resistant aqueous film-forming foam (AR-AFFF). The new AR-AFFF – plus 16 new foam concentrates – were derived from two Chemguard specialty chemical products, FS-100 and HS-100.
Recent product introductions include EXTREME Class A foam, the first foam concentrate designed specifically for compressed air foam systems, and Ecoguard, the first UL listed fluorine-free foam for multiple applications (topside and sprinkler).
For more information contact:
John Vieweger, Vice President, Sales & Marketing, 1.817.473.9964 x206, Fax: 1.817.473.6590