Adhesives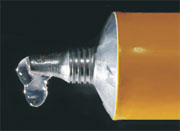 Chemguard fluorosurfactants improve wetting characteristics and enhance the pore penetration of adhesives, increasing bond strength. Chemguard fluorosurfactants also reduce surface tension, which improves adhesion on lower-energy surfaces and on materials with surface contamination. The addition of fluorosurfactants can increase open time in certain formulations, which creates a wider application widow without slowing curing.
See Wetting & Leveling Fluorosurfactants product catalog. Select Chemguard S-554-100 or S-550-100 for non-aqueous formulations.
For more information,
contact specialty chemicals customer support
.