Floor Strippers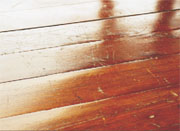 In floor stripper formulations, Chemguard fluorosurfactants reduce surface tension to improve the effectiveness of wetting and penetrating contaminants, which allows cleaning ingredients to more effectively dissolve old wax layers. With the addition of Chemguard fluorosurfactants, concentrations of the active cleaning ingredients often can be reduced.
See Wetting & Leveling Fluorosurfactants product catalog. Select S-550-100 and S-554-100 for non-aqueous formulations. Select S-500 and S-111 for alkaline based formulations.
For more information,
contact specialty chemicals customer support
.