Inks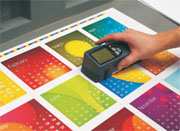 Chemguard's fluorosurfactants dramatically reduce surface tension to improve wetting, flow, and leveling without creating "bleeding" issues. In addition, the low fluorosurfactant concentrations will not interfere with dye and pigment dispersion phases, and low-foam options are available for low-voiding potential. Because Chemguard fluorosurfactants tend to migrate to the surface of applied inks, they can improve anti-blocking characteristics, which reduces transfer when printed sheets are stacked after ink application. Fluorosurfactants also can increase printing cylinder life.
See Wetting & Leveling Fluorosurfactants product catalog. Select Chemguard S-554-100 or S-550-100 for non-aqueous formulations.
For more information,
contact specialty chemicals customer support
.