About Us
CHEMGUARD products serve the fire suppression and specialty chemicals fields worldwide with unmatched customer support, high-quality and field-tested products, and the ability to meet customer requirements through product customization. We lead through advanced research, exacting engineering and design, proven manufacturing excellence, and prompt service and delivery.
CHEMGUARD products are grounded in their reputation for timely, effective customer support and delivery – around the clock, around the globe.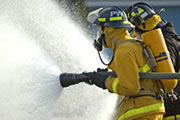 The CHEMGUARD Fire Suppression product line is a full-service leader in foam concentrates, firefighting hardware, and engineered foam systems for industrial, military, municipal, offshore, petrochemical/energy, transportation/freight, and airport hangar applications:
We produce an extensive line of efficient, UL Listed and FM Approved firefighting foam concentrates and hardware for a host of applications.
Regional foam concentration blending and logistics enable us to provide prompt delivery, including On Call 24/7 emergency foam shipments.
We engineer and manufacturer a broad line of high quality, durable, and proven firefighting hardware, including fixed-system proportioning equipment, discharge devices, portable equipment, a mobile unit, and custom-engineered systems.
Our customer support includes foam sample testing and training.
Our comprehensive operations include chemical manufacturing, dry chemical blending and packaging, foam concentrate production, hardware fabrication, and extensive product testing and quality assurance. We conduct ongoing product development and technical support to meet dynamic customer and market demands in our state-of-the-art research and development center of excellence.
The CHEMGUARD Specialty Chemicals division produces a broad selection of fluorosurfactant for wetting/leveling applications. Our advanced chemistry, extensive industry knowledge, and prompt delivery enable us to effectively and efficiently meet customers' requirements for a broad range of applications.
For more information,
contact us
.