Company News
SMU Caruth Institute Selects Chemguard for 2009 Dallas 100 Entrepreneur Awards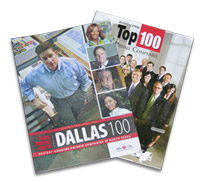 September 17, 2009
Chemguard has been named one of the winners (sixty-third place) of the 2009 Dallas 100 Entrepreneur Awards, presented by the Caruth Institute for Entrepreneurship at the Southern Methodist University Cox School of Business. The prestigious Dallas 100 Awards have recognized the fastest growing private companies in the Dallas area since 1990.
"We are honored to be selected as one of the fastest growing entrepreneurial firms in North Texas by the Caruth Institute," commented Chemguard President Roger Bower. "Chemguard provides top quality fire suppression and specialty chemical products to customers worldwide. Ongoing product innovation and a skilled and dedicated staff are key to our success."
The annual Dallas 100 Awards are based on a number of criteria, including location, sales history, credit report, and character. Chemguard also ranked sixty-eight on the Fort Worth Business Press 2009 top 100 private companies in Tarrant County.
Chemguard is a global, full-service, ISO 9001:2000 Certified manufacturer of fire suppression foams, equipment, and systems; specialty pumps; and fluorosurfactant specialty chemicals. Known for advanced R&D, engineering/design expertise, quality manufacturing, and high-quality, field-tested products, Chemguard provides unmatched customer support.