Company News
Foam System Design Training Seminar Combines Classroom and Field Work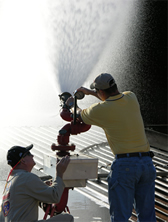 November 18, 2009
Chemguard conducted another informative, well-attended Foam System Design and Application Training Seminar November 10-11, in Mansfield, Texas.
The three-day program consisted of classroom lectures, hands-on activities, equipment demonstrations (see monitor demonstration in top photo), a live fire burn demonstration, and a tour of Chemguard's manufacturing, production, and test facilities. An important component of Chemguard's comprehensive customer support, the seminar provided sprinkler contractors and fire suppression systems design engineers an opportunity to learn from field-experienced Chemguard systems design and sales engineers.
"The November training seminar, our second for 2009, was highly successful," said Chemguard Vice President of Sales and Marketing John Vieweger. "We valued the chance to share our knowledge, and we value the opportunity to learn from professionals in the field about their challenges in systems design and implementation."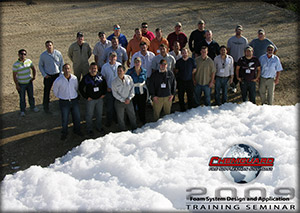 Attendees (bottom photo, with expanded foam concentrate) traveled from throughout the United States and from abroad. The training seminar, which earned 24 National Institute for Certification of Engineering Technicians (NICET) continuing education points, focused on the following topics:
Aircraft hangar protection
Alternative fuels
Bladder tank systems
Discharge devices
Proportioning systems
Pump skids
UL foam sprinkler testing and LASTFIRE tests
Warehouse protection
Chemguard's next Foam System Design and Application Training Seminar has been tentatively scheduled for May 11-13, 2010. For additional information, contact Chemguard Marketing Manager
Matt Boyle
, 817 473-9964.
Chemguard is a global, full-service, ISO 9001:2000 Certified manufacturer of fire suppression foams, equipment, and systems; specialty pumps; and fluorosurfactant specialty chemicals. Known for advanced R&D, engineering/design expertise, quality manufacturing, and high-quality, field-tested products, Chemguard provides unmatched customer support.