Company News
Chemguard and Williams Advance High-Performance Fire-Fighting Foam Technology
"Next Evolution" 1x3 and 3x3 AR-AFFF Foam Concentrate Launched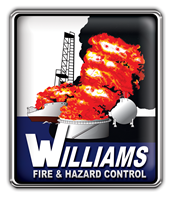 December 1, 2009
Chemguard, the global leader in foam concentrate and foam systems R&D and manufacturing, and Williams Fire & Hazard Control, the world expert in flammable liquid fire suppression, have formed an alliance to develop high-performance fire-fighting foam concentrates.
Chemguard and Williams introduced the first products resulting from their collaboration this month: ThunderStorm F-601B, a 1x3 alcohol-resistant aqueous film-forming foam (AR-AFFF), and F-603B, a 3x3 AR-AFFF. Both foam concentrates are suitable for hydrocarbon and polar solvent fires.
"Chemguard sees great promise in this partnership with Williams, the leader in storage tank and flammable liquid fire fighting," said Roger Bower, Chemguard president. "We intend to aggressively develop the 'next evolution' of advanced foam concentrates, starting with ThunderStorm F-601B and F-603B."
"We expect our work with Chemguard, the only fully integrated global fire-fighting foam concentrate manufacturer, to result in significant product development and noteworthy fire-fighting performance enhancements," added Dwight Williams, Williams Fire & Hazard Control CFO and chairman.
ThunderStorm F-601B and F-603B AR-AFFF foam concentrates, the first in a line of "next evolution" foam concentrates, exceed the highest performance standards in the industry. Formulated from special fluorochemical and hydrocarbon surfactants, high-molecular-weight polymers, and solvents, ThunderStorm F-601B and F-603B have a much lower viscosity than other 1x3 and 3x3 polar-solvent AFFF products, which enhances performance in foam proportioners, in-line eductors, balanced-pressure systems, and other equipment.
Fully compatible with current ThunderStorm reserves, F-601B and F-603B offer improved extinguishment and enhanced firefighter safety for both conventional Class B hydrocarbon fuel and polar solvent Class B fuel. Because of their excellent wetting characteristics, ThunderStorm F-601B and F-603B also are effective on Class A fires.

For additional information, contact:
John Vieweger, Vice President Sales & Marketing
Chemguard Fire Suppression Division
1-817-473-9964 x206

Dwight Williams, CFO and Chairman
Williams Fire & Hazard Control
1-800-231-4613
Chemguard is a global, full-service, ISO 9001:2000 Certified manufacturer of fire suppression foams, equipment, and systems; specialty pumps; and fluorosurfactant specialty chemicals. Known for advanced R&D, engineering/design expertise, quality manufacturing, and high-quality, field-tested products, Chemguard provides unmatched customer support.